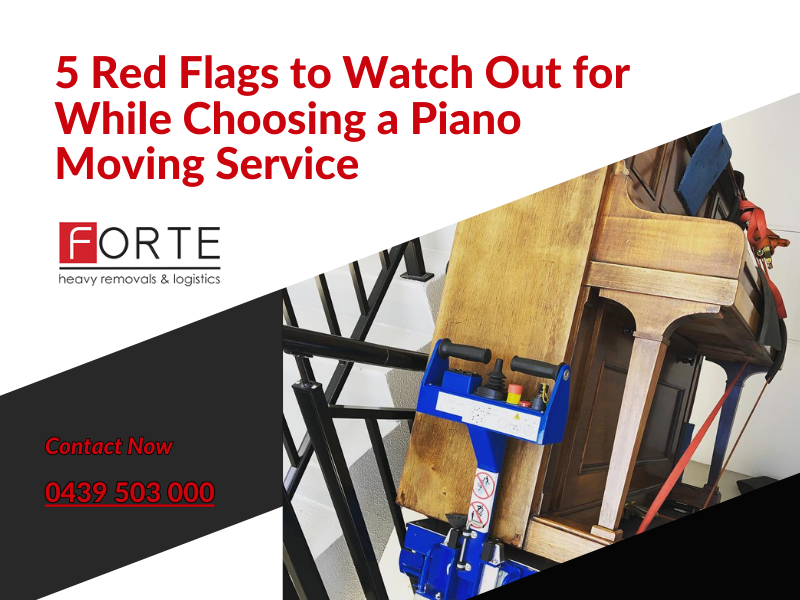 Regardless of whether you are moving your piano to another room or are shifting it to another destination, it is essential to receive professional help for the secure relocation of your piano. However, while hiring a professional piano mover, you must be cautious enough to avoid any scams.
If you fail to detect a scammer, you will end up being stressed, lose a lot of money and your beloved piano. This blog post discusses five red flags to watch out for while hiring a professional piano moving in Perth. Read on to learn more. 
Red Flags to Detect a Fraudulent Piano Removalist
The Service Provider is Not Licensed and Insured
When it comes to hiring a professional service of piano moving in Perth, the last thing you would want to deal with is to work with somebody who is not licensed and insured. A reliable piano moving company has to be authorized by a recognized government organization and also needs to provide insurance coverage for the piano moving service you are hiring from them. 
So, avoid signing a deal with any random service provider that is not licensed and insured.
They Offer an Estimate Too Good to Be True
If the moving company you are looking to hire offers you an estimate that sounds too good to be true, you need to get alert and avoid working with such piano movers in Perth. If the moving company offers you only non-binding estimates, it implies they are planning to rip you off. 
Opt for working with a piano moving company that offers transparent quotes before undertaking your moving project with prices that appear reasonable.
They are Not Able to Provide You with References
Is the moving company not being able to provide you with proper references? If the moving company is not able to provide you with references, it is a sign that something is not right. A reliable team of piano movers in Perth will be happy to show you positive customer reviews and provide you with a long list of happy customers.
If there is an exception in the scenario, avoid working with the moving company.
They Have Poor Customer Reviews
Although occasional bad reviews are not unusual, you should not be okay with hiring piano removals if the service provider has only bad reviews. Before finalizing the deal, check online reviews for this service provider on various online platforms, including their website. 
If the company has a lot of bad customer reviews, you must not choose to work with them.
They Demand You to Pay Upfront
If your piano moving company demands that you pay a significant amount or the entire estimated amount before the moving job, it is a surefire sign you are dealing with a fraudulent company.
The mover should be paid only after they safely transport your piano to the desired destination. If the moving company demands to be paid even before the service starts, there are massive chances they will take your money and simply disappear.
Choosing the right piano moving in Perth is essential to ensure the secure relocation of your valued musical instrument. If you are looking to engage a real and reliable service provider for your piano moving needs, Forteheavy Removals is the name to trust. Connect with us to receive our expert support.