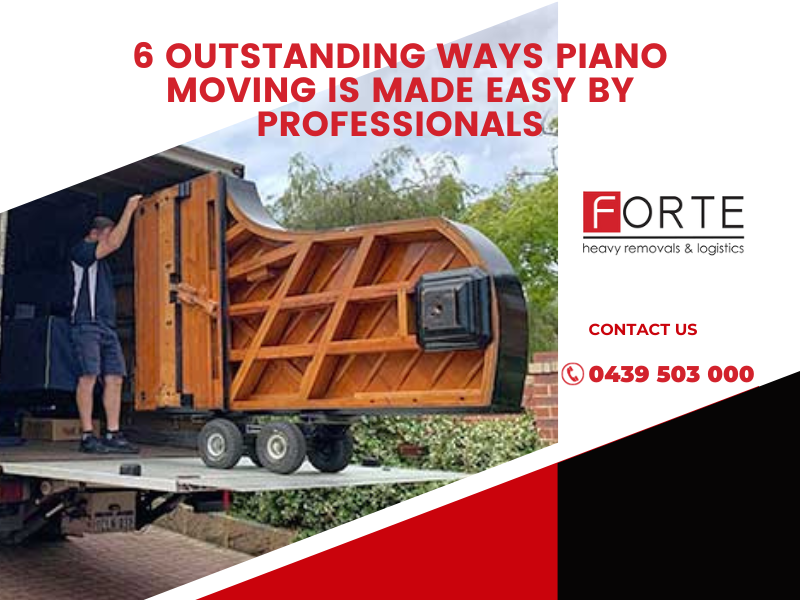 Nothing is more precious than a house with a beautiful piano. At the same time, nothing is as daunting as moving a heavy and uniquely shaped piano to a different location. This blog is to explain the outstanding ways in which piano moving is made easy by professional piano movers in Perth.
Why is piano moving a big deal? Well, it is probably because pianos are not just heavy; they are delicate instruments with intricate components. Whether you are planning to shift a grand piano, an upright piano, or any other type, relocating it requires expertise and specialised equipment. Here are six outstanding ways these experts make piano moving easy and stress-free:
1. Piano Movers Move Countless Pianos:
Piano moving becomes more easy with experience. Piano professionals move countless pianos of different sizes and models. Their daily hands-on experience and knowledge enable them to understand the nuances of each piano and the unique challenges that may arise while shipping the piano to its new destination.
2. Piano Movers Can Secure The Piano Well:
Piano moving involves both techniques and strength. It requires specialised tools and equipment designed for the safe transportation of these delicate instruments. Professionals of piano moving in Perth come equipped with piano dollies, straps, blankets, and protective padding materials. Thus, you enjoy peace of mind knowing that your piano will remain secure and unharmed during transportation.
3. Piano Movers Are Trained in Proper Handling Techniques:
One cannot move a piano only by lifting it. It requires special skills and training. Professional piano relocators are trained in the proper handling techniques to distribute the weight evenly. This specialised training helps to prevent any damage to the piano as well as keep the people involved safe. The piano movers in Perth are thus highly skilled persons whose precision and care ensure smooth and safe relocation.
4. Piano Movers Take Precautions Against Climate:
Pianos are not only internally delicate but also sensitive to changes in temperature and humidity. Professional piano movers in Perth understand this sensitive characteristic of the piano well. They take precautions to shield the piano from extreme conditions during transport. Such a high-quality service guarantees that your piano remains in optimal playing condition after the move.
5. Piano Movers Ensure Efficient Loading and Unloading:
Loading and unloading a piano can be a matter of skill and expertise. The process becomes more tricky, especially when dealing with stairs or tight spaces. Professionals Perth piano removals have the experience and technique to secure the piano in the moving vehicle. Additionally, they unload it safely at its destination. It causes minimum risk of accidents or damage during these critical stages of the move.
6. Piano Movers Have Insurance Coverage:
Reputable piano moving services offer you a service that has insurance coverage. The piano moving experts often carry insurance coverage to provide peace of mind to both the movers and the clients. Insurance offers extra protection in case of unexpected accidents, and thus, you enjoy a reliable service.
The services of professional piano movers in Perth are not just convenient; it's essential. Their experience, specialised equipment and proper handling techniques contribute to a seamless piano relocation experience. Whether you're moving your piano across town or across the country, trust the experts of Forteheavy Removals for a hassle-free piano-moving journey. Our highly skilled piano movers ensure that your cherished instrument arrives at its new destination safely and in perfect condition.
Need assistance? Call us now!