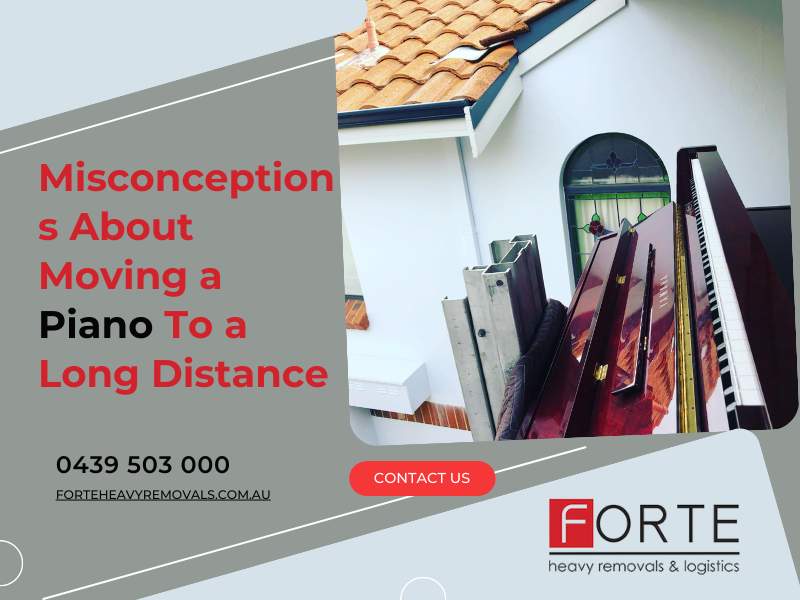 A lot of people are unclear about the right way of piano moving to a long distance. Pianos are hefty objects and are mainly a symbol of your ancestral property. So be it upright, grand or baby piano, it is essential to talk to experts and clear out your doubts about a piano moving in Perth and everywhere.
What Are The Misbeliefs About Moving A Piano?
People have a vague idea about the proper process to implement while the piano is moving. Here are some of the misconceptions they have in mind:
1. An Individual Can Move A Piano All Alone
The piano weighs somewhere between a weight of 300 to 1200 pounds. Attempting to lift a piano all alone can be dangerous. There are chances of accidents and injury. Additionally, dropping the piano can have a heavy impact on the delicate internal mechanism. Professional Perth piano removals will provide a team of 2 to 3 people to safely pack and transport your piano to the new destination.
2. You Can Move A Piano Without Groundwork
You cannot move a piano to a long distance just one fine morning. It needs careful planning and groundwork. You should have proper measurements of the doorways and staircases and completely understand the object's weight. You must have all the necessary components required to move a piano and pack it with extra protective layers. Piano moving in Perth specialists are experienced ad well-planned. They make all the arrangements necessary for a convenient movement of your piano.
3.You Will Get High-quality Piano Movers All Across Perth.
Getting a trustworthy piano mover in Perth who does the job right is challenging. Unfortunately, many companies can claim high-quality work at a low price, but that can be a major mistake in your life. Such companies may employ untrained professionals who may end up causing a major disaster in the name of professional piano moving. To avoid such accidents, it is better to do a little online research and check reviews and testimonials of past clients. It is also advised to ask for recommendations before hiring piano movers in Perth. 
4. Pianos Have Easy Damage Repair Elements
Pianos are made of as many as 12000 components. All these components contribute to the sound quality of the instrument. Thus these parts should be in working condition and must not get damaged. Unfortunately, most of the elements of a piano are challenging to repair. It is, therefore, best to keep your piano protected, especially while moving it over a long distance. Professionals make efforts to pack the piano with several protective layers during a long-distance movement.
5. All Moving Companies Are Meant For Piano Moving
It is a notion that an ordinary moving company can match the level of a professional piano moving service. Many local moving companies dedicate your piano moving task to unskilled technicians who cannot safeguard the instrument from damage. Only a specialised piano moving company with properly trained staff can offer you genuine professional work.
Instead of hiring a standard piano mover, try Forte Heavy Removals, the best piano moving service. Here the experts use specialised equipment and proper techniques that make your piano moving a seamless experience. Connect with the best piano moving in Perth and ask for a free consultation.