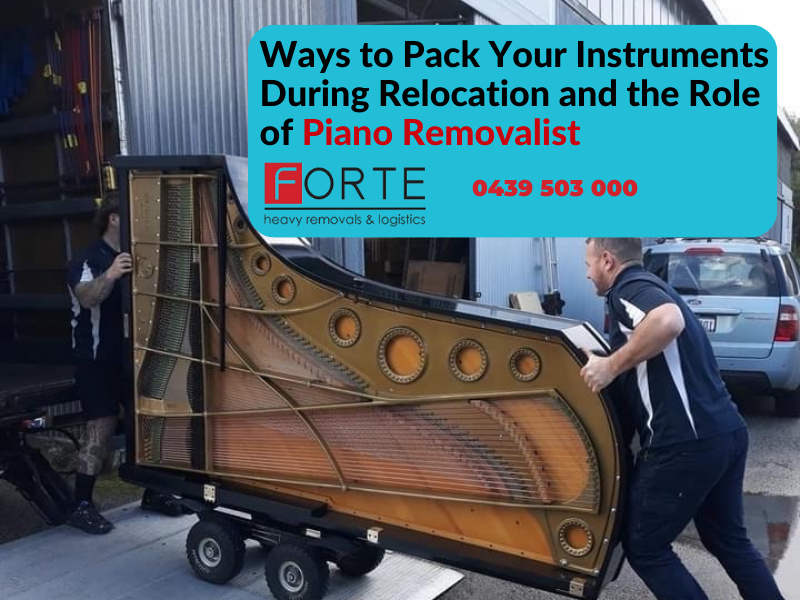 When you have to relocate, especially with a lot of instruments, the thought of relocation is more stressful than the task itself. Musical instruments are delicate and valuable. If you are a professional musician or an enthusiastic hobbyist, your musical instrument holds both sentimental and financial value. To ensure its safe journey to your new home, secure proper packing with a professional piano removalist in Perth. Experts can offer invaluable guidance on packing your musical instrument during relocation and can safely transport the huge and heavy piano to your desired location.
Packing Your Musical Instrument:
When you hire experts in piano moving in Perth, you do not have to worry about arranging the necessary supplies for packing. The professionals carry all the required packing supplies, such as sturdy cardboard boxes, packing paper, bubble wrap, foam padding, packing tape, and labels. Thus it offers you peace of mind knowing that you do not have to break your head to arrange and keep all the necessary tools handy for the movers. Piano removal experts can guide you regarding the packing of other instruments.
For stringed instruments like guitars or violins, it is better to slightly loosen the strings to relieve tension. For pianos, ensure that the lid is securely closed and locked. Get the appropriately sized boxes to minimise the chances of the instruments getting damaged during transit. For smaller instruments like violins or clarinets, hardshell cases are more suitable. Larger instruments may require custom-made wooden crates for added protection.
Wrap, Secure and label:
Using bubble wrap or foam padding helps to wrap the instrument safely. Professionals of piano moving in Perth pay extra attention to delicate strings, keys, valves, and delicate parts that demand added attention. Adding extra padding, especially to fill any empty space, helps to keep the piano protected and prevent movement that can damage the internal piano parts.
Wrap your instrument carefully with packing paper, bubble wrap, or foam padding. Packing tapes(not on the direct surface) does a wonderful job of securing the wrapping in place. When expert piano movers take charge of your piano moving, they pay extra attention to delicate parts, such as strings, keys, or valves. They clearly label the boxes with the instrument's name and also paste the word "fragile."It is a great way to help the piano movers or anyone handling the packages realises they must treat the item in the box carefully.
The Role of a Piano Removalist in Perth:
The expertise of a piano removalist in Perth ensures that your piano is treated with care and precision during the move. When you know that you have hired experienced piano movers, you can trust them with all kinds and sizes of pianos. They have long access to specialised equipment, such as piano dollies and straps, to transport these heavy and delicate instruments safely. Disassembling and reassembling are two critical tasks in the piano moving activity which, if handled casually, can impact its functionality and sound quality.
Experts of a piano mover in Perth also take measures to protect the instrument from extreme temperature and humidity fluctuations as they know how it can impact your sensitive instrument. Finally, you enjoy peace of mind when you have hired reputable piano removal services that can provide insurance to cover any potential damages during the relocation service.
Whether it's a cherished piano, a beloved guitar, or any other instrument, these packing tips can ensure the safe relocation of all your musical instruments. The assistance of a trusted piano removalist in Perth further guarantees a safe relocation of all your musical instruments. 
For proper packing and an experienced piano moving service, get in touch with Forteheavy Removals. We safeguard your investment and allow you to continue your beautiful musical journey forever.