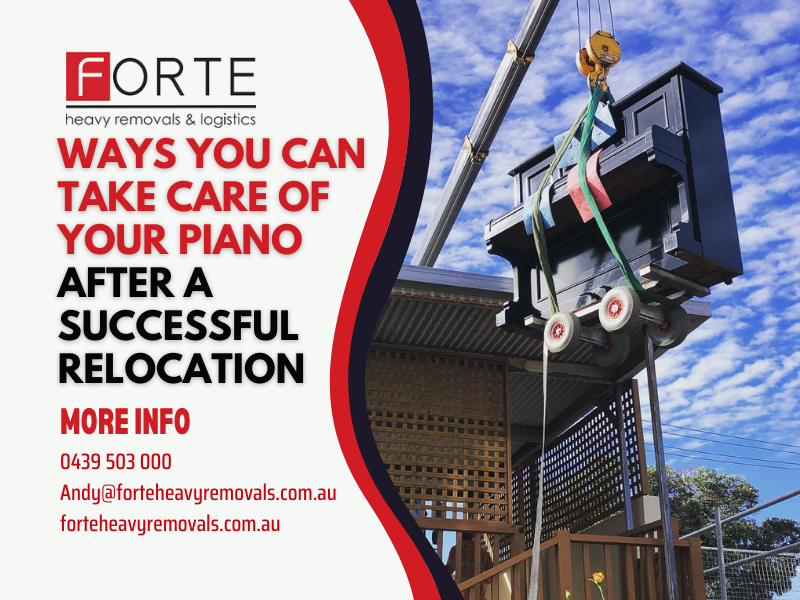 A successful relocation of a huge instrument like a piano is a great accomplishment for an individual. No matter whether you have hired a professional piano mover in Perth or used DIY tricks and relocated your piano with some of your acquaintances, piano moving is a huge task, and you have achieved it. Now it is essential to take good care of your piano in the new environment. Let us discuss some useful strategies to preserve the piano so that it last long and perform excellently forever:
Let It Get Accustomed
After the move, give your piano time to get accustomed to its new surroundings. Fluctuations in temperature and changes in humidity levels can affect the piano's wood, strings, and other components. Experts recommend that the piano be placed in a room with stable temperature and humidity. Allow the piano to adjust for at least two weeks before tuning or making any adjustments. Avoid exposing the piano to direct sunlight, particularly during this time frame.
Schedule A Professional Tuning
Although you have appointed the best Piano Removalist in Perth to shift your piano to the new destination, the piano must have undergone the physical stress of transportation. As a result, the piano would now require tuning to restore its proper pitch and tonal quality. Contact a professional piano tuner to schedule a post-move tuning session. Tuners have the expertise and specialized tools to adjust the tension of the piano strings and ensure that the instrument is in tune. Regular tunings every six to twelve months will maintain the piano's optimal sound and performance.
Check And Control Humidity Levels
Humidity is a crucial factor in preserving the piano's quality. Fluctuations in humidity lead to wood expansion as well as contraction. It undoubtedly leads to potential damage or changes in tuning stability. Get yourself a hygrometer. It does the work to monitor the humidity levels in the room where the piano is placed. A relative humidity level of around 40-50% is a comfortable level for the instrument. If the humidity is pretty low, use a humidifier to add moisture and a dehumidifier or an air conditioner to reduce excess water.
Maintain A Cleaning Routine
Keeping your piano clean is essential for its longevity and aesthetics. Dust the piano regularly using a soft cloth, wipe the keys with a wet cloth and dry them immediately. Refrain from using harsh chemicals or excessive moisture, as they can damage the piano's finish. Talk to the experts of a piano mover in Perth during relocation or even after to get specific cleaning recommendations based on your material.
Safeguard From Potential Hazards
Pianos are huge items built in uneven shapes. These heavy and oversized instruments are ever subject to potential hazards. Experts advise keeping it away from direct sunlight as it can cause damage polish and finish significantly. Avoid keeping any drink near the piano that can cause accidental spills, or remove any item which is near the piano and can cause scratches on it. Keep the piano covered to keep it dust and dirt free.
When you plan to relocate your piano, connect with a piano moving service in Perth.
Bottom Line
It is important to maintain and care for your piano throughout for its longevity and continued performance. For a successful relocation, connect with Forte Heavy Removals. The experts here pack, load and unload your expensive piano with the utmost care, and hence you have no possibility of significant damage during relocation.
With the above tips, continue enjoying the beloved instrument for several years.
Need a cost-effective piano mover in Perth? Check out our website here @forteheavyremovals.com.au