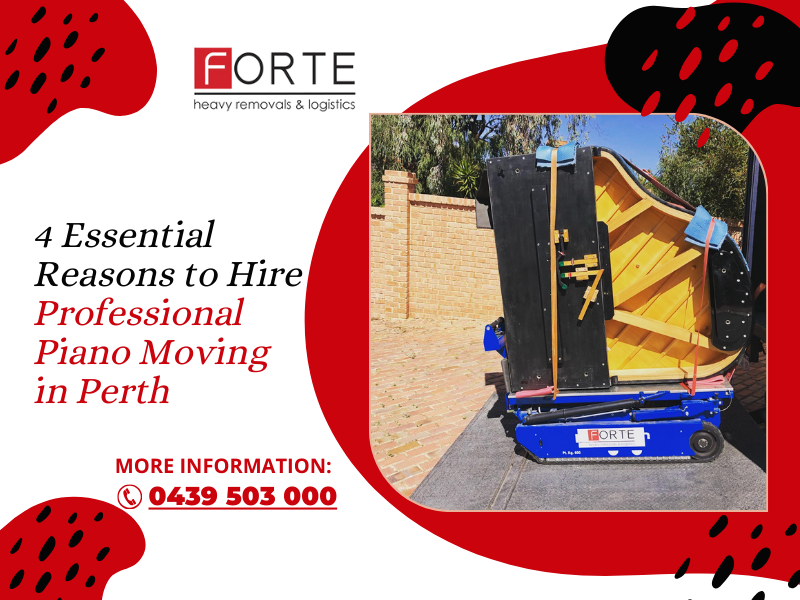 Are you planning to relocate to another house anytime soon? Changing your house itself is a highly stressful process. If you have to carry your piano along, the situation becomes even more difficult. So, if you have to relocate a piano along with your other valuables, you can simplify the process with professional help.
This blog post discusses four compelling reasons to hire a professional piano moving in Perth. Read on to learn more. 
Compelling Reasons to Hire Professional Piano Moving Services
Protect Your Piano from Damage
One of the most important reasons to hire a professional piano moving in Perth is to protect your piano from damage. If you try to move your piano on your own without having any knowledge or experience, it can lead to significant disaster. 
As the pianos are extremely heavy and large, it becomes more likely for inexperienced movers to cause damage to themselves, to the piano and to the home. Hiring a professional piano moving service will ensure secure transportation of your piano and enable you to attain complete peace of mind.
Experts Use Specialized Equipment
It takes the use of specialized equipment to safely and successfully relocate a piano. When you hire a professional piano removalist in Perth, you do not have to worry about arranging these equipment on your own. 
Your service provider will supply all specialized piano moving equipment, such as dollies, straps, blankets, and padding, allowing you to relax and focus on other aspects of your moving project.
Heated Transportation for Your Piano
If you are moving your piano to another location during the winter season, you will need to arrange a truck with a suitable temperature for your piano. However, not all moving services provide trucks that are designed to transport pianos.
A reputable team of Perth piano removalists will have heated trucks to transport your piano. This will protect the piano from sustaining any damage that extreme temperatures could cause. Besides, when you choose to hire such a service, you also do not have to worry about your getting damaged while shifting other furniture, as it will have its own truck. 
Simplify The Moving Process 
When you have to move to another location, you already have plenty of things to take care of. Starting from finding a new home to packing up your entire household valuables, then shifting them safely to the new location, all these things will already stress you up.
Moving a piano on your own is just another stress that will add to the list. You can simplify the moving process by choosing to receive the help of a reputed professional piano moving in Perth. Such a professional will ensure secure packing and transportation of your piano without letting it encounter any kind of damage. 
Receiving the help of an expert professional piano moving service is essential to ensure a secure relocation of your musical instrument. If you are looking to engage the best piano removalist in Perth, you do not have to look further than Forte Heavy Removals. Connect with us to discuss your piano relocation needs.