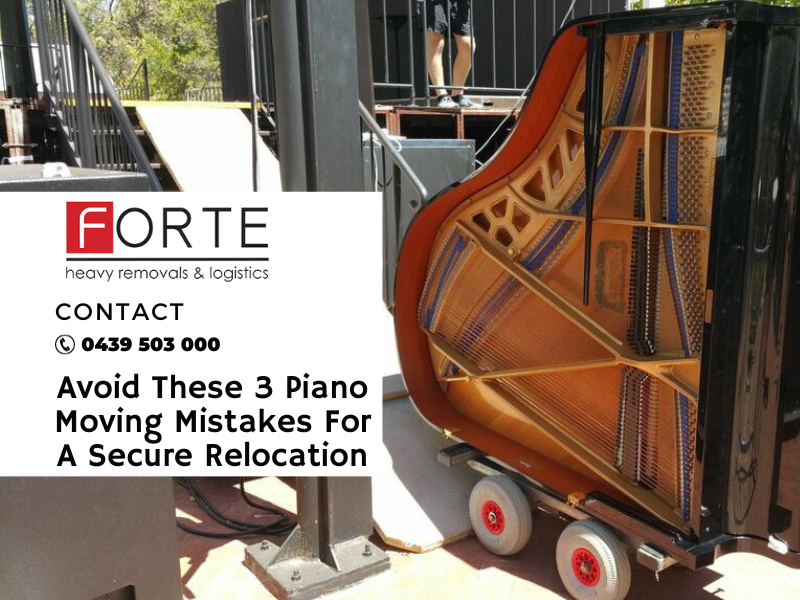 While moving a piano to another location, there are many common mistakes piano owners make throughout the moving process. Making these mistakes makes the moving process more complex than offering you any help.
This blog post discusses three common mistakes to avoid and opt for a secure piano moving in Perth. Read on to learn more. 
Common Mistakes to Avoid While Moving Your Piano
Mistake 1# Trying A DIY Piano Move 
One of the biggest mistakes you can make while moving your piano is attempting a DIY move. Pianos are heavy and delicate instruments that require specialized equipment and expertise to be safely moved. Trying to relocate your piano on your own can result in damage to your property, the piano, and injury to yourself.
Below are the reasons why you should refrain from attempting a DIY piano move.
Lack of expertise and experience in moving pianos
Lack of proper equipment for a secure move
You may get yourself hurt by the size and weight of the piano
A DIY move can cause potential damage to the piano
Thus, instead of attempting a DIY piano move, consider hiring a reliable, professional piano moving in Perth. 
Mistake 2# Not Being Able To Prepare The Piano For The Move 
Another mistake you can make while moving your piano to another location is not being able to prepare the piano for the move. Common piano preparation mistakes you can make :
Not being able to secure the lid in a proper manner
Failing to provide proper padding to protect the piano during the move.
Failing to consider the size and weight of the piano in regard to the space it needs to pass through.
When you choose to hire the help of a reputed professional piano removalist in Perth, such a professional will prepare your piano for the move, maintaining all necessary safety precautions and making sure the piano is safe and sound throughout the transportation. 
Mistake 3# Hiring A Wrong Piano Moving Company 
Not all piano moving companies are reliable and equally efficient. Choosing the wrong moving company can lead to frustrations, delays, hidden expenses, as well as potential damage to the piano.
Some of the mistakes you can make while choosing a piano moving company include:
Opting for a cheap option without considering the expertise of reliability.
Not looking for licensing an insurance
Focusing on hiring a local mover instead of looking for a company that specializes in piano moving
You can avoid these significant mistakes by looking for a piano moving company that has expertise and experience in the field. Also, look for licensing, insurance, and a proven track record while looking to hire a professional piano moving in Perth. Choosing the right moving company will protect your piano from any kind of damage and enable you to attain complete peace of mind.
If you are looking to engage the best Perth Piano Removalists, you do not have to look further than Forteheavy Removals. Connect with us to discuss your piano relocation needs.