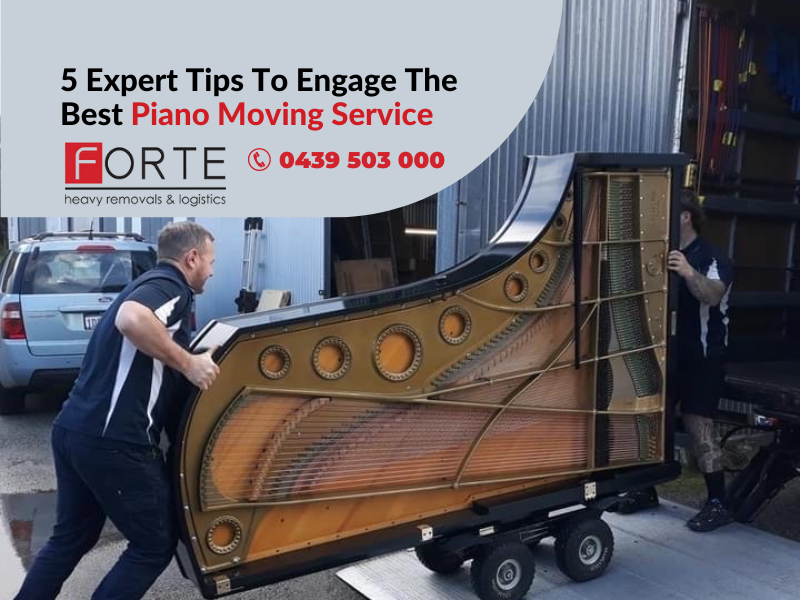 Moving a piano is a daunting and delicate task that requires utmost care and precision. Pianos are not only heavy and bulky but also delicate and sensitive musical instruments. Whether you are relocating to a new home or transferring your treasured piano to a performance venue, receiving professional support becomes essential to ensure the safety of your piano.
This blog post explores five expert tips to help you engage the best piano moving service in Perth. Read on to learn more. 
Conduct Research and Check Credentials 
When it comes to entrusting your piano to a moving company, conducting adequate research becomes necessary. Look for moving services that have a proven track record of successfully relocating pianos. Check customer reviews and testimonials to know about their reputation and reliability.
Also, make sure to verify their credentials, licenses and insurance coverage to ensure maximum safety for your piano. A reputable piano moving company will be fully insured to protect your instrument against any potential damage during the move.
Consider Experience and Expertise
Pianos are delicate instruments, and it requires the expertise of trained professionals to be shifted safely. Experienced piano movers in Perth will have in-depth knowledge of different piano models and their intricate components. These experts will understand the challenges associated with moving pianos and be equipped to handle them with care. 
Entrusting your piano to experienced experts will ensure a seamless and stress-free relocation, minimizing the risk of any harm or damage to the instrument.
Look for Specialized Piano Moving Equipment
Moving a piano to another location requires specialized equipment and techniques to ensure its safety. The best piano movers in Perth will have experience in handling pianos of different types and sizes and will have the necessary tools for a smooth move.
Avoid hiring general moving companies that lack the expertise and equipment necessary for piano relocation, as they will not be able to provide the ultimate level of care and precision.
On-Site Assessment and Customized Solution
Every piano moving requirement is unique, and so will their relocation process. The best piano movers will conduct an on-site assessment of your piano and its surroundings prior to the move. This allows them to implement a customized moving plan, taking into account factors such as the size and weight of the piano, along with the layout of the current location and the destination.
Customized solutions will ensure a secure and efficient moving that meets your specific requirements.
Transparent Pricing and Written Contract
While looking to receive a professional piano moving service, make sure to look for transparency in the pricing structure. A reputable piano moving service will provide a clear and detailed breakdown of their costs. Avoid choosing companies that charge too high or unnecessarily low prices, as you do not want to compromise on the quality of service.
Also, make sure all the terms and conditions are clearly stated in a written contract prior to fixing an appointment with your service provider. A written agreement will protect both parties and guarantee that your piano will be handled with utmost care and professionalism.
Moving a piano requires expert professional attendance. If you are looking to engage the best piano moving service in Perth, you do not have to look further than Forteheavy Removals. Connect with us to receive our expert support.