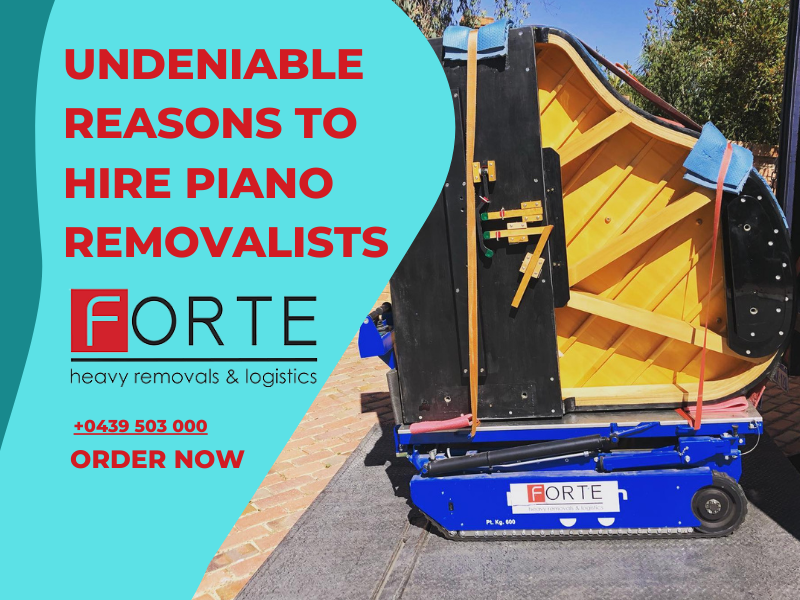 Do you feel that pianos are unmanageable and you cannot think of relocating the instrument? Well, it is never a difficult job for an expert piano mover in Perth. Let's understand what is so difficult about moving a piano and how the professionals manage it so conveniently:
1. Managing The Weight Of A Piano 
Pianos not only look but are heavy instruments in real. These instruments are built of cast iron and durable wood materials. When a spinet piano weighs around 180 kg, the weight of the grand piano can be up to 360 kg. An inexperienced professional will need help to imagine the actual weight of the piano. Piano moving is not possible with some unproven DIY tips. So if an individual wishes to move a piano and is unfamiliar with how far a piano can weigh must look for professional Perth piano removalists. 
2. Pianos Are Massive Instruments
Another significant factor in hiring piano removalists is their physical attributes. It isn't easy to transport the piano to a different location without professional assistance. The piano's weight is unevenly distributed, so it cannot be appropriately balanced. Anyone trying to lift the piano will have to go through a lot of struggle. Loading and unloading this unique instrument is challenging and risky, especially if the piano has to be moved through stairs and narrow spaces. A professional piano mover in Perth is an expert and can help in the proper balancing of this item using proven strategies.
3. Pianos Costs A Lot 
Compared to other instruments, pianos are elaborate items that are more pricey. Transporting the upright or grand piano is also expensive. However, it makes sense to invest in a reliable piano moving service than to bear the enormous cost you might have to pay for the damage repair. Once the internal components of the piano get damaged, it is even more likely for the piano to never perform well in the future. Piano removalists know the proper techniques and use specialised tools to transport the piano safely and soundly.
4. There Are Few Chances Of Accidents During Piano Moving
Moving a piano without proper training and proper tool can cause severe injuries. The piano is a large and heavy-weight object. Piano moving demands preparation and supervision. Most importantly, it is teamwork. It is best to hire experts in piano moving services in Perth to reduce the possibility of accidents and unwanted circumstances. With an expert service, you enjoy hassle-free piano moving and be rest assured that neither the piano nor the people involved are harmed in any way.
5. The Risk Of Getting It Wholly Damaged
Piano moving is undoubtedly very risky. The risk of completely damaging a piano is in each piano relocation work. Pianos are made up of several intricate parts, and each part plays a role in making up the unmatched sound of the piano moving. Handling the expensive and complex instrument with DIY tips or inexperienced hands can completely ruin the item. Professionals of Forteheavy Removals are experienced, and they secure protective layers before transporting the piano. With piano moving experts, your musical instrument is secured.
Need professional Piano Mover Perth? Reach out for a seamless piano relocation service.