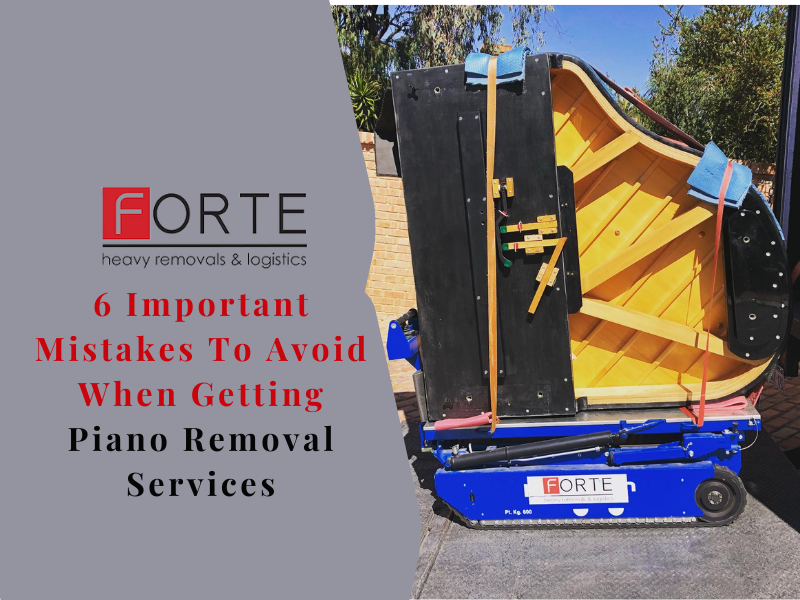 Moving large objects can be a daunting task for anyone, especially if that large object is an expensive piece of equipment. Did you know that the piano is the most inspiring instrument in the world? However, given the weight and size to consider, it is at least considered a team effort. Avoiding injury to yourself or the piano is a top priority. This blog will cover five common mistakes for Piano Moving in Perth and how to avoid them.
What Are The Mistakes To Avoid In Piano Removal Services?
Moving is hard, but it's hard when there are a lot of large and delicate items. One particular object that requires more effort to move is a piano. You need to prepare for the Piano Removalist, as you don't want to damage such a precious thing. For many people, a piano's value is measured not only by monetary value but also by emotions. If you're transporting a piano for the first time, be aware of these mistakes that many people overlook.
Move: Don't think you can move the piano yourself; it is always best to seek professional help for this task. Hiring a piano moving service is the best you can do. These professionals are experienced and well-equipped to get the job done. A friend or neighbour may mean enough to help you out, but appreciate having a problem and go with a pro.
Using The Piano Roll: Piano foot wheels are for short distances. Avoid pushing the piano too often while travelling or between locations. It damages not only the rollers but also the piano itself. To properly transport a piano, have a professional temporarily remove the legs and move the body of the instrument separately. 
Leave The Piano Lid Open: As with any equipment or accessory, secure the piano before transporting it. This includes locking or securing lids or other parts that may come loose during shipping. Failure to do so may damage the delicate ivory keys and other internal parts. In case you don't know, these components are very expensive to repair or replace. So pay attention to them as well as the piano as a whole. It should be taken care of for the Perth Piano Removalists services.
Load The Piano Last: Since the piano is such a large item, you may want to set it aside during the move and finally load it into the moving truck. Instead, heavy items like pianos should be loaded first and secured to the rear of the truck. This distributes the weight in the truck better and makes the ride smoother and safer. This also allows you to better sort small items when unloading them into your new home.
Not Sure Where To Place It In Your New Home: There's nothing worse than having no space for a piano in your new home. You can't leave it in your driveway or lawn until you find the perfect spot. Instead, include the piano in your interior design plans before you move in. Don't hesitate. You can't just leave a piece this big and heavy between boxes in your garage.
Tune Your Piano Upon Arrival: After such a long and tedious trip, you may think that your piano needs to be tuned soon. In fact, Perth Piano Removalists recommend letting your instrument rest and settle into its new location in your new home before tinkering with your interior. Otherwise, the tune-up session may be wasted, and you may have to call the tuner again in a few months. Wait until the piano strings and internal mechanisms are stable before operating the piano.
Try to avoid these common mistakes even if it's your first time moving your prized piano. Then you'll soon enjoy making great piano music in your beautiful new home. However, with a little care and preparation, you can get your piano to its new home safely and soundly. Following these simple tips and avoiding mistakes in transporting your piano can contribute to safe and successful piano transport.
One of the biggest challenges for Piano Moving Perth is the safety. Due to its heavy weight and irregular shape, it is not easy to lift and carry. Consider hiring professional moving assistance to ensure your safety and avoid dangerous mistakes when transporting your piano. Movers know how to plan your moving day step by step. Plus, renting saves you a lot of hassle and, more importantly, ensures the safety of your instrument. Get in touch with Forte Heavy Removals for a reliable and efficient piano removal services in a budget friendly way.