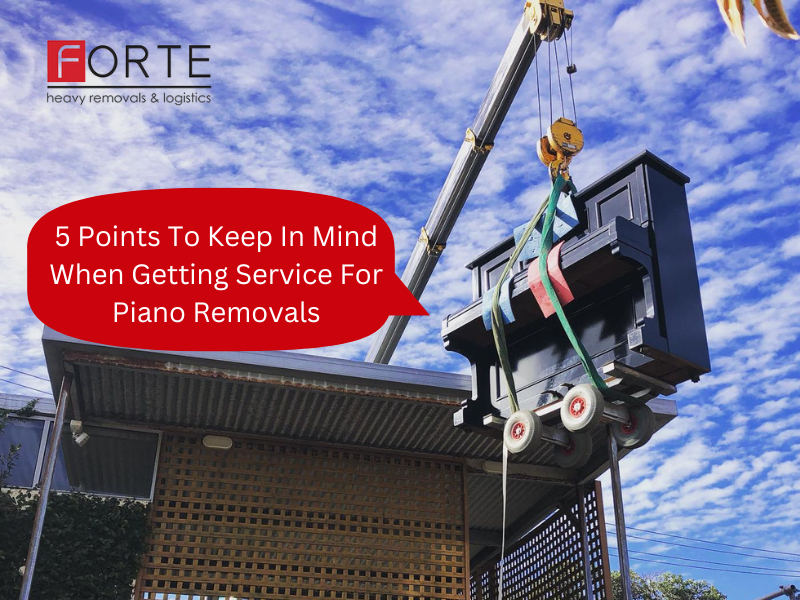 Most pianists understand the value of a professional piano transporter. A piano is a large and cumbersome instrument with many delicate moving parts. Whether a musician wants to move a piano from one floor of the house to another or across town, the only way to protect the instrument is to hire a professional mover. Unfortunately, not all piano delivery companies are created equal. Some Perth Piano Removals have more professional experience than others. Paying someone for damage to an instrument in transit makes little sense, so musicians need to find the best piano transport company for the job.
What Precautions Should Be Taken For Piano Removals?
A piano is one of the most difficult items to transport. They are heavy, clumsy in shape, highly susceptible to damage and, considering both price and pleasure, are usually prized possessions of their owners. For these reasons, moving a piano should not be taken lightly. An overview of four important things you should know before getting Piano Moving in Perth are:
Get Expert Help: First of all, don't try to move the piano yourself. Doing so could seriously damage you and your instrument. Professional piano movers are trained to move all types of pianos, from concert grands to standard uprights. They have the special tools, techniques and expertise to ensure that your piano reaches its destination without damage. We typically hire a piano move specialist to help us provide the best service possible and reduce the impact on your instrument. 
Empty Space For Furniture And Boxes: Remove interior doors if necessary. Make sure the outside path is clear of obstacles. Finally, we take pictures of the piano before packing or disassembling it so that we can accurately record its condition before it is moved.
Check Your Insurance: Most likely, you have insurance on your piano, but not all home and home insurance cover moving. For this reason, we recommend calling your insurance company to find out more about their policies. If not covered, talk to your mover about available options. Remember, shipping damage is not covered by moving insurance. Instead, you should purchase separate insurance to cover your Piano Moving in Perth. Alternatively, you can look into piano insurance offered by many companies in Australia. Again, these guidelines may not cover piano transportation. Talk to Chess Moving about available options to find the one that best protects your piano from damage during shipping or storage.
Prepare The Piano: Chess Moving and a professional piano mover will take care of the detailed preparations, but you can do a few things to prepare your piano for moving. It may have been on the road or in storage for a while before unpacking, so first dust it well and wipe it with a damp cloth. Then remove all external accessories such as music stands and candlesticks. If you have a grand piano, disassembly is usually required, but leave it to the professional Perth Piano Removalists to safely pack all the individual parts. However, you can start planning your piano route from your home to your truck.
Tuning After The Move: A piece of a vintage story asserts that a piano's desire to be tuned as quickly as it is moved to a brand-new location. While it sincerely does want to be tuned, it's miles high-quality to go away for a month or so, especially if it has been in storage. This prevents your piano from settling into the brand-new environment, adjusting to the temperature, humidity and exclusive lighting. After a month to 6 weeks, provide a tuner with a name and book an appointment. Before you recognize it, your piano might be sounding like its vintage self again and, fortunately, nestled in its new home.
As noted above, shifting a piano isn't any clean feat. So, at the same time as it'd appear cost-powerful to transport it on your own, hiring an expert Perth Piano Removals could nonetheless be the high-quality direction of action. That way, you must ensure your piano is moved safely, securely, and in a single piece. Moving a piano is not cheap and is a horrible idea to rent impartial movers with little to no revel in managing pianos. These units are pretty delicate, and they also can be pretty expensive or maybe priceless. Hence, musicians owe it to themselves and their loved pianos to discover a sincere shifting company. Get in touch with Forte Heavy Removals for a reliable and professional piano removal services.