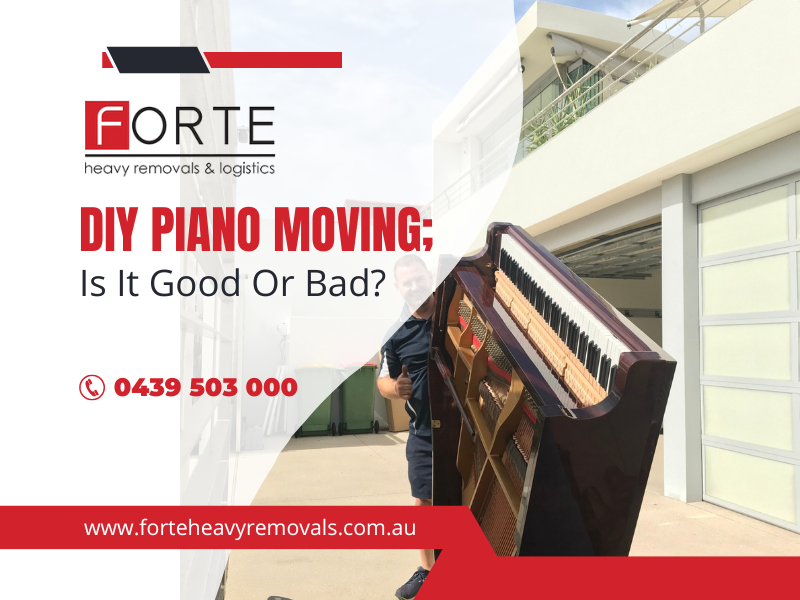 Are you planning to relocate your piano using some DIY tips? Wait! Read this blog to understand why people hire a piano mover in Perth to tackle their piano-moving jobs instead of planning it all by themselves.
Many individuals find it tempting to use DIY tips to move their pianos, especially when on a tight budget. Trying something exciting, like moving a piano with a group of friends, feels overwhelming. However, it is good to know that trying to move this enormous instrument with inexperienced hands can have terrible consequences.
DIY Tips For Moving A Piano Can Damage The Piano
The piano can weigh somewhere between 500 to 1000 pounds. The unique and bulky shape of the piano makes it inconvenient to move the piano. You will need around 3 to 6 people to transport the piano safely. Additionally, some special tools and equipment are arranged by professional piano movers in Perth that make the piano moving convenient and quick. 
Several moving and unmoving parts of the piano need to be secured while transporting the pianos. When any of the pieces start malfunctioning due to damage or in case they get lost while packing or unpacking, the piano fails to sound appropriate.
Pianos are bigger yet not very delicate. Their internal mechanism is sensitive and can break easily. If this fragile item is improperly handled, it may drop and get severely damaged. Even a bump against the wall will also lead to a severe injury. Repairing a piano is a challenge and a costly affair. You can prevent such unwanted situations by hiring piano removalists in Perth who care for your piano and offer a seamless piano-moving experience.
DIY Tips For Moving A Piano Can Damage Your House
Unsafe and unproven tips for moving your piano can significantly damage your home. No matter whether you are moving to a new destination or not, it is essential to keep every property unharmed. An attempt to move a piano on your own puts your house building at risk. You have a chance of bumping into walls, doors, staircases, statues, etc. There are chances of damaging the expensive floor if the piano is not moved using a suitable layer of cover. Experienced piano movers reduce the risk of damage to your house and easily take the piano to its desired destination.
DIY Tips For Moving A Piano Can Lead To Physical Injury
Carrying a heavy piano causes muscle strain. It may cause back pain to all the people attempting to move the piano. Dropping the piano on the floor can also cause severe accidents for the people carrying it. It is best to hire an expert piano mover in Perth who are well experienced in moving these bulky items without getting injured. They use the right technique to get the piano moving and hence handle the work like a pro. 
Consider Hiring Professional Piano Movers
So, we can safely conclude that attempting piano moving with some DIY tips is not a great idea. If you deploy people without experience to assist you in piano moving, the piano and your property may get damaged. DIY tips for moving a piano thus can even affect your insurance claim.
In such cases, you will find it difficult to claim any related insurance. You do not have any such risk with professional piano movers of Forte Heavy Removals. They have customer-friendly policies that safeguard the interest of their customers.
For hiring a reliable piano mover in Perth, talk to us or visit our website to learn more about our service.