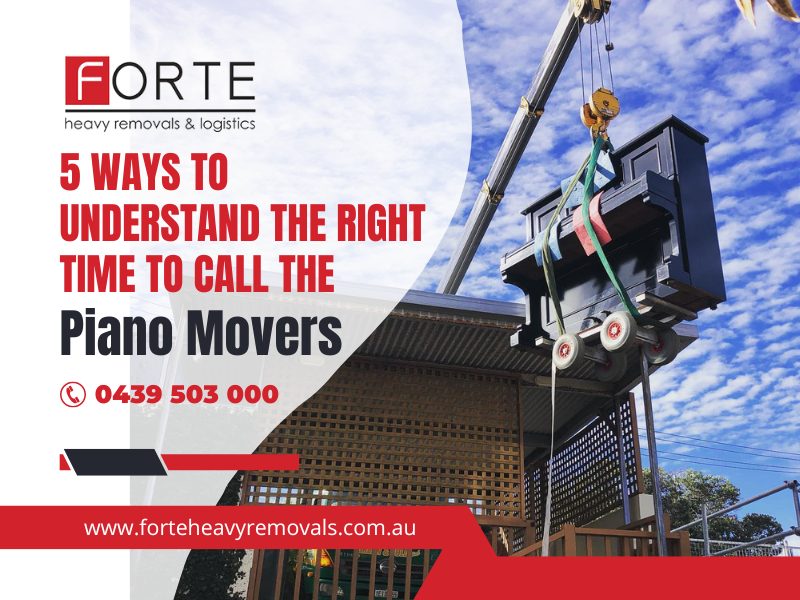 Pianos are always a special instrument. It either bears the importance of ancestry or is a symbol of your class and culture. But as it gets old, it experiences wear and tear. In such cases, you may need to call the piano movers in Perth to either take it to the technicians or relocate it somewhere else. 
A piano is a delicate object with multiple parts. One needs to be extremely cautious while handling this instrument, and the person owning the instrument should also know when to call the piano movers.
Here is a list of ways to know when you should call the piano movers to deal with your expensive instrument:
1. While Giving Away The Piano For Restoration 
Pianos generally remain in a house for a long time. An age-old piano has inevitably experienced a lot of stress that has led to its wear and tear. Some pianos even stopped working if kept for a prolonged time due to the accumulation of dirt and dust. So if you consider restoration work for your piano, you must ensure that the overall condition of the piano is good and it is worth repairing the piano. Also, the piano repair is costly and not guaranteed. Therefore consider all these points before you book an efficient piano mover in Perth.
2. While Shifting To A New Home
The most preferred time for calling a piano removalist in Perth is when you are about to shift to a new poem. Piano movers are the best to pack all the delicate and intricate parts of the piano whose safe transportation is essential for the piano to sound appropriate and last long. The piano movers are rightly equipped and know the best technique to move your piano to its new destination safely. Thus it is the perfect time to call the piano moving experts.
3. While Giving Way, Your Piano 
Always consider hiring piano movers in Perth as and when you plan to sell or donate your old piano. When you are selling your piano, it is important to hand over the item in its best condition to avail the best deal.
Also, when you are donating your piano, it is best to give the piano unharmed and undamaged so that your efforts to give away your favourite item do not become meaningless.
4. While You Need To Store The Item
During the shifting of your house or some other reasons, many homeowners prefer to go for professional piano movers in Perth to transport the item to its storage. Piano moving specialists make all the necessary arrangements to pack, load, transport and unload the pianos to the desired storage space.
5. While You Renovate Your Space
Pianos are pretty sensitive, especially to weather fluctuations. Extreme weather conditions can damage the intricate parts of the piano. During the renovation, your house will likely overflow with construction material and dust particles. A piano in the house has more chance of getting completely damaged during the renovation. Call professional piano removalists to move the piano to some indoor spaces where there are fewer conditions of polluted air and the weather is comfortable for the piano o to sustain for the time being.
Whether you are deciding upon shifting, storing, donating or disposing of it, a piano is difficult to part ways with. Hire Forteheavy Removals for a stress-free and cost-effective piano moving service. We care for your piano as much as you do and hence keep your piano intact under any condition. Your pianos are safely packed and transported by expert hands who know the value of your piano.
Still not sure? All piano movers in Perth and learn more about the services in detail.