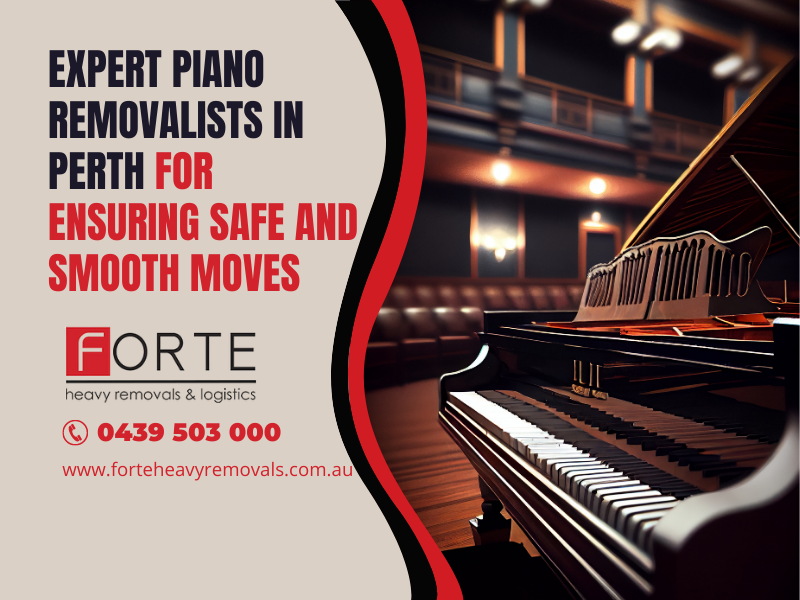 Piano Removal Services are an essential resource for anyone faced with the daunting task of moving a piano. With their expertise and specialized equipment, these professionals offer a seamless and stress-free solution for transporting delicate and heavy musical instruments. Whether you are a homeowner, a music studio owner, or a concert hall manager, enlisting the help of piano removal services ensures the safety of your cherished piano during transit. In this article, we will explore the benefits of Piano Moving Service in Perth and highlight the significance of entrusting this delicate task to the hands of skilled professionals.
Reasons to Hire a Professional Piano Moving Service in Perth
Moving a piano is no ordinary task. The sheer weight, delicate nature, and value of this musical instrument require professional assistance to ensure a seamless and damage-free relocation. In this blog, we will explore the expertise of piano removalist service in Perth. Whether you are moving within the city or relocating across the country, their skilled team guarantees reliable, efficient, and secure Piano Moving Service in Perth.
Understanding the Importance of Professional Assistance: Pianos are not only valuable monetary assets, but they also hold immense sentimental value for their owners. By hiring a professional piano removalist, piano owners can rest assured knowing that their instrument is in safe hands. Trained experts possess the knowledge and equipment required to navigate the complexities of moving a piano, safeguarding it from potential damage.
Unparalleled Expertise and Equipment: Piano removalists require specific skills and advanced equipment to handle the intricate process successfully. Piano Removalists services boasts a team of well-trained professionals experienced in dismantling, packing, moving, and reassembling pianos. Piano Moving in Perth employ techniques such as padding, specialist dollies, and moving straps to ensure utmost safety throughout the transportation process.
Local and Interstate Piano Moves: Piano removalists caters to both local and interstate piano moves. Whether you are relocating your piano within Perth or need it transported to another state, their team has the expertise and resources to handle any distance. Their attention to detail, dedication, and commitment guarantee that your piano arrives at its destination in pristine condition, regardless of the distance.
A Focus on Safety and Damage Prevention: Piano moving involves a series of risks, including potential damage to the instrument and personal injury. Piano removalists puts immense emphasis on safety measures to counter these risks effectively. Their team adheres to best practices, utilizing proper lifting techniques, secure packaging, and professional equipment to minimize the likelihood of any mishaps.
Customized Services and Competitive Pricing: Piano removalists understands that every piano removal is unique, and thus, offers customized services to meet individual needs. Piano Moving Service in Perth provide pre-move consultations where their team assesses your requirements, offers advice, and develops personalized plans. Despite their industry-leading services, Piano removalists ensures competitive pricing, making quality piano moving accessible to all.
When it comes to relocating your valuable piano, it is crucial to entrust the task to expert piano removalists in Perth. Their dedication to safety, impeccable skills, and commitment to customer satisfaction make them the go-to service provider for Piano Moving in Perth. By choosing professional assistance, you ensure that your piano is relocated with care, guaranteeing that it reaches its new home in perfect condition.  
The services provided by Piano Moving Service in Perth are invaluable when it comes to the safe and efficient transportation of pianos. From the initial assessment to the final delivery, these experts possess the knowledge, experience, and tools necessary to handle the intricacies involved in moving such a delicate instrument. By opting for professional piano removal services, you can have peace of mind knowing that your piano will be handled with the utmost care and attention, reducing the risk of damage. So, whether you are relocating your home, setting up a new music studio, or organising a concert, do not hesitate to reach out to piano removal services at Forte heavy Removals to ensure a smooth and secure piano transport experience.