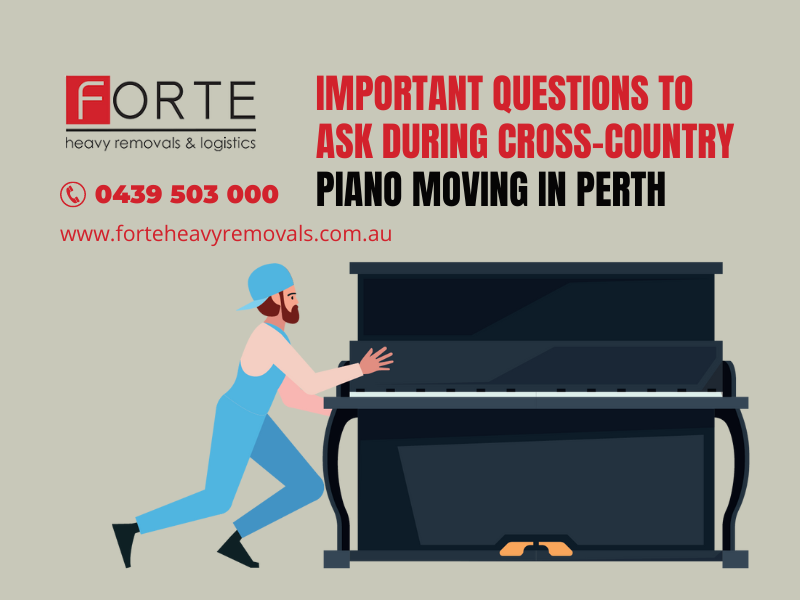 Are you planning to move your expensive piano across the country? Do you know what qualities to look for in a company providing cross-country piano moving in Perth? If not, then it is time for you to read this blog.
Moving a piano across the country is quite a complex task that is subject to careful planning and expertise. When entrusting your valuable instrument to a cross-country piano mover, it is crucial to ask the right questions to ensure a smooth and successful relocation. So let us talk about a few important questions that you should ask when hiring a cross-country piano mover. Knowing their answers will give you confidence and peace of mind that your piano will be in capable hands throughout the journey.
Here are a few specific questions that you must ask the piano movers in Perth:
Are You Experienced In Cross-country Piano Moving? 
Begin by asking about the piano mover's experience, specifically with cross-country relocation activity. Piano moving in Perth over long distances involves unique challenges, such as navigating through different states, coordinating logistics, and ensuring the piano's safety during transportation. An experienced cross-country piano mover in Perth will have the necessary expertise to handle these challenges efficiently and effectively.
Can You Provide A Genuine Reference For The Proof Of Your Service? 
Requesting references or testimonials from past clients is an excellent way to gauge the piano mover's reputation and the quality of their services. You can ask previous customers to understand their professionalism and overall satisfaction with the piano mover's services. Positive feedback will help you gain confidence in your decision to hire them.
What Measures Do You Take To Protect Pianos During Transport? 
The safety of your piano during the cross-country move should be a top priority. Inquire about the specific measures the professional piano mover takes to protect pianos during transport. Ensure they have and use specialized equipment, such as piano dollies, straps, and blankets, to secure the instrument. These tools prevent it from shifting or sustaining damage during transit. Additionally, ask about their loading and unloading procedures to understand their expertise in handling the piano.
Are You Licensed And Insured?
It is vital to work with a cross-country piano mover who is licensed and insured. Licensing ensures that the company meets certain industry standards and regulations. Insurance provides coverage in case of any unexpected incidents, protecting both the piano and your investment. Ask for proof of licensing and inquire about their insurance coverage to enjoy a peace of mind.
How Do You Handle Unforeseen Delays Or Issues?
Cross-country piano moving is a long and time-consuming task. There can be unforeseen delays or issues, such as weather conditions or road closures. Ask the prospective piano movers in Perth to understand how the professionals deal with such situations and how they communicate. Any reputable and experienced piano mover will have contingency plans and effective communication systems to address any unexpected circumstances that may arise during the move.
When planning a cross-country piano move, asking the right questions is crucial for selecting a reputable and skilled piano mover. Forteheavy Removals is dedicated to providing exceptional cross-country piano moving services. By inquiring about their extensive experience, protective measures, licensing and insurance and all the necessary details, you can make an informed decision and trust the service to ensure a successful and stress-free relocation for your precious instrument. 
Want an experienced professional for piano moving in Perth who would safeguard your piano every step of the way? We have got you covered. Reach us out at forteheavyremovals.com.au for a free consultation.