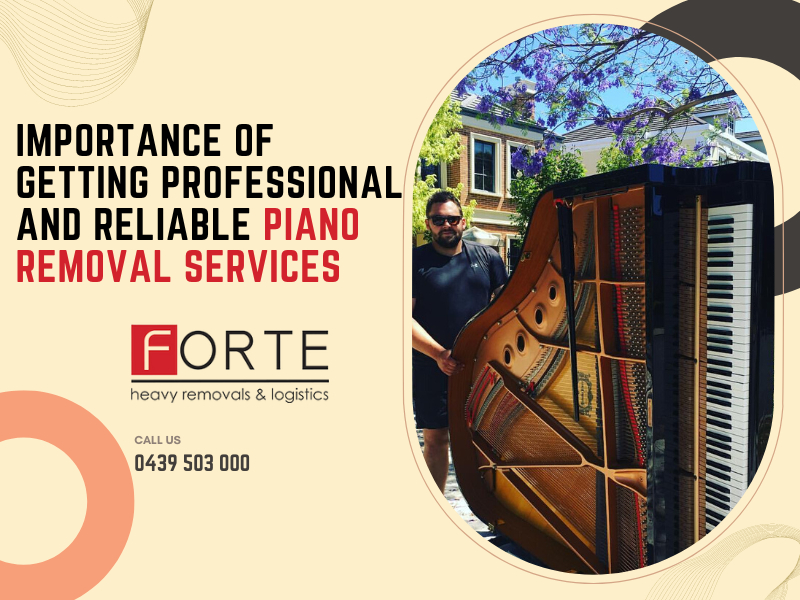 It may seem like an easy task, but moving a piano is not. Pianos, even the smallest models, are expensive, and even minor damage is usually very expensive to repair. Second, all pianos are heavy and can be difficult and potentially dangerous to move if you try to do it yourself or hire someone as an experienced piano mover as it is bulky. Of course, you can also handle it yourself and save money. But things can easily go wrong, and if your piano is damaged, the cost of repairing or replacing it far exceeds the savings you can expect from doing it yourself.

If you and your helper are inexperienced in moving a piano properly and do not understand exactly how to move a piano without disturbing or damaging its delicate and fragile components, a qualified help turn It is best to look for skilled professionals. To appreciate the importance of this skilful Piano Moving in Perth, consider the following although pianos weigh well over 1,000 pounds, they are precision instruments containing hundreds of tuned strings, hammers and fragile parts.

What are the importance of getting Professionals for Piano Removal Services?
When it comes to piano movements, the internal components of the instrument are so delicate and fine-tuned that mass and size can be misleading. Moving a piano requires more than just the equipment and muscles to handle its size and weight. This requires expert skill and a level of finesse not normally required for most objects of similar mass and dimensions. Pianos can be damaged very easily, which increases the risk if in non-professional hands. For this reason, the best option to ensure a safe and smooth move is to hire an experienced piano mover.

Piano Removalist are experts in safely handling and transporting different types of pianos in various situations. Whether moving an upright, grand or electric piano, hiring a professional piano mover ensures that the right person with proven expertise and experience takes care of your valuable instrument. With the added benefits of special equipment and transportation, including a piano mover with air suspension, the piano mover is the go-to choice whether you need to transport a piano within your home, across the street, or across the country, as they can be made safer and easier.

To find the ideal piano mover, look for a piano mover that has been in business for a long time. This level of knowledge and experience is essential to making well-informed decisions. Because a Perth Piano Removalists with a long history has spent more time mastering the art, the act of piano transportation and overcoming the challenges of different movements in different conditions and situations becomes important. Given the piano's value and the potential damage cost, it is better not to risk it with an inexperienced carrier or a company that does not specialize in piano transportation. So think carefully about the potential impact when deciding between a start-up moving company and a proven piano moving company.

The next important aspect of piano transportation is insurance. One of the many selling points of reputable moving companies is full insurance to ensure you are fully covered in the event of unexpected damage to your equipment. So make sure insurance is available, and the Piano Removalist has up-to-date insurance policies. Make sure you are not held responsible for damages or injuries to personnel if a problem occurs. Ensure the piano shipping company will cover the cost of repairing, restoring or replacing the piano. Reliable movers will not hesitate to provide proof of insurance and offer comprehensive insurance to protect you.
Once you've found the best Perth Piano Removalists company, you'll need to obtain a bill of lading that includes information such as the names of the people involved in the move, the items being moved, and the piano's declared insurance value, together with the company's conditions of carriage. Invoices act as legal documents, protecting both parties in the event of an incident. Read it carefully, and don't forget to ask the mover questions and ask for clarifications about anything that is unclear or you may have doubts about. Reputable piano transport companies have websites where you can access relevant information and can provide additional advice or answer questions if needed. Remember that a piano is one of the most difficult items to move, and you can avoid a costly disaster by hiring a reputable and experienced mover to handle the move.

Forte Heavy Removals offers full-service piano moving services for all upright pianos, harpsichords and other keyboard instruments. Our experienced piano transporters are highly trained and skilled to handle, transport and deliver your pianos with the utmost care. Our team for Piano Moving in Perth have years of experience safely transporting pianos and other delicate instruments for our customers. With a high employee retention rate, we are a business that shares expertise and commitment unmatched in the industry.