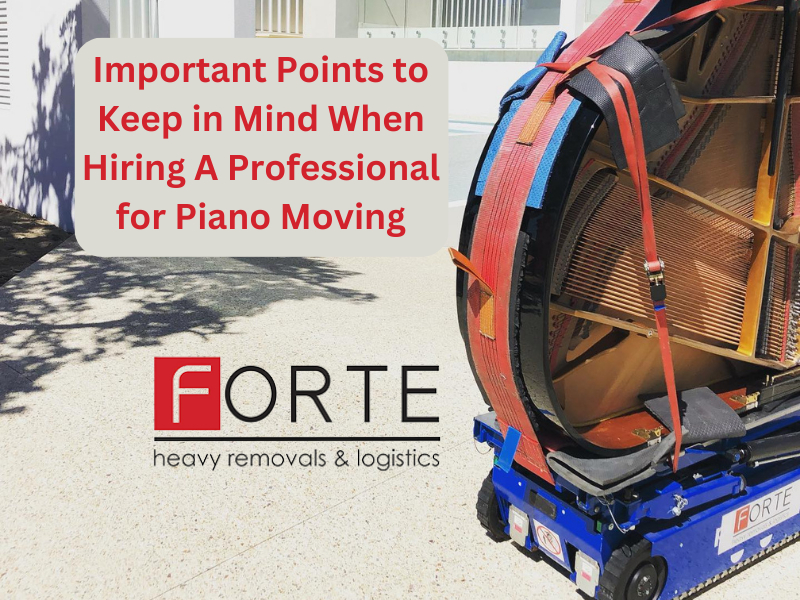 A piano is arguably one of the most expensive pieces of furniture one can own in their home. The piano is not only heavy but also a complex and fragile instrument. If you are moving and owning a piano, it takes a lot of careful planning and manpower to safely transport it to your new home. For many piano owners, this might be enough reason for them to sell or give away the piano instead. But there is no need to go to that extreme if you hire professional piano movers.
Moving a piano is a tricky undertaking as it is not an easy task for those without experience. Luckily, most moving companies know that moving a piano requires an experienced moving crew and specialized equipment to move pianos securely. Your piano is a precious treasure in your house, valued for its musical capabilities and aesthetic appeal as a centrepiece. The rest of your stuff may be properly boxed and moved on your own or with the aid of a Removalists during a move, but there is a demand for specialized care for Piano Moving in Perth.
What Are The Things To Remember After Hiring Your Professional Piano Movers?
Moving an antique grand piano to a new home or another room is nothing like moving old furniture. There are buttons, pedals, cables, and other components that can be very expensive to replace. Needless to say, the weight can exceed 1,000 pounds, so hiring a professional piano mover is the best way to protect yourself and your beloved instrument. Finding the right carrier can involve checking eligibility, comparing costs, and choosing the best coverage, but with a little know-how, you can find the right professional Piano Movers in Perth in no time.
Once you've chosen the piano transporter you want to use, it's time to decide on all the details. This process includes a complete and detailed written contract and if required, financial planning. We also need details and photos of the current condition of the piano in case something goes wrong.
Arranging contracts and payments with piano carriers: Your piano mover should provide a detailed cost breakdown along with the specific amount you will end up paying. This breakdown protects you from unwanted surprises when processing payments.
Know Your Rights and Avoid Moving Scams: While there are many reputable professional Perth Piano Removals out there, there are some rogues in the shipping industry. Beware of red flags. Be aware of how to avoid the rare moving scams where so-called movers charge double or triple the promised price or run away with the piano. Make sure to review previous customer referrals and never pay the full amount up front. It can also be suspicious if the movers arrive with unbranded trucks and clothing. Trust your intuition and always put contract details in writing.
Keep a record of your piano moving project: Before you move, check your piano thoroughly for any cosmetic damage or functional problems. Take lots of pictures and record how you hit each key. This precaution will give you proof of date if something goes wrong during the move. Then you have to oversee the project itself. Don't overdo it, but make sure your movers have the right equipment and are paying attention as promised.
Your piano is a valuable possession in many ways. Once the piano mover has safely delivered your instrument to your new home, they will perform a full inspection to ensure there is no damage. If your piano was delivered with proper care, please leave a positive online review for the moving service.
One of the many reasons to hire a professional mover for Piano Moving in Perth is to help prevent personal injury and property damage. However, not all movers know how to safely move a piano from your home, so it's important to hire a mover with experience, specifically with pianos.
Ideally, it is advised to look for a local piano mover specialising in moving this instrument. Forte Heavy Removals have the necessary equipment to move the instrument and can disassemble and reassemble the piano as needed. You can find experts through online databases, a Google search, or contacting other pianists for recommendations. Get in touch mow to experience seemless piano removal servuices.