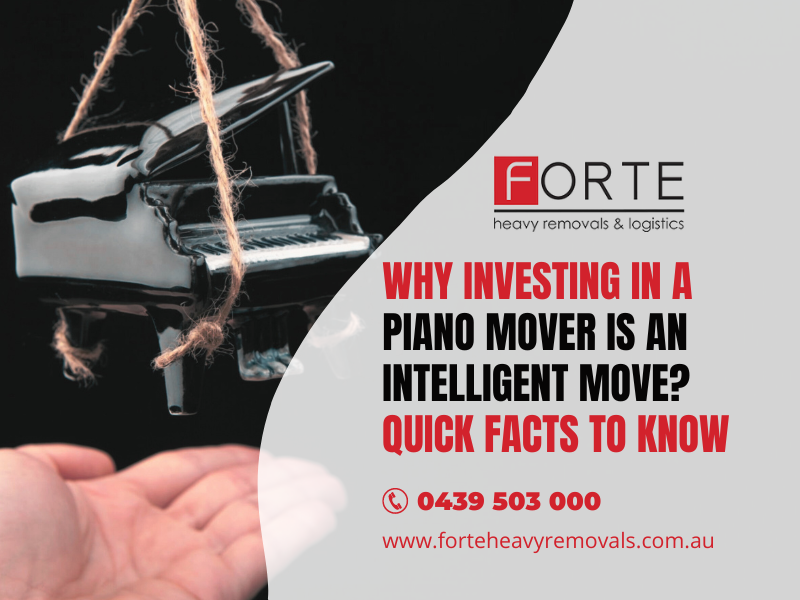 Why does the piano moving work look so daunting? Well, it is undoubtedly because a piano is a device with a complex shape and heavy weight to overpower. Thus hiring a trustworthy piano mover in Perth can help with the safe transportation of your cherished instrument.
If you have planned to relocate your piano using some unproven DIY tips or by hiring a local mover, read through the blog to know why investing in professional piano movers is worth the investment.
Sufficiently Equipped
The piano is not an ordinary instrument that can be easily lifted and transported to a desired location. It is a heavy item built in a unique shape that is difficult to grab and move. Piano movers are equipped and can move your pianos safely. They possess specialised equipment and tools like piano dollies, straps and moving blankets that make piano moving convenient for them.
Additionally, one needs to secure the multiple parts inside the piano to ensure that the piano sounds appropriate. Expert piano movers in Perth pack all the parts of the pianos carefully. They are experienced and hence can reasonably transport the piano through the tricky spaces of the passages of the house.
Piano Movers Can Help Save Costs
You can save more in the long run when you hire a professional piano moving service. Confused? Hiring a local mover may be cost-effective initially. However, if your piano is damaged during the transit, you must spend much more than expected.
Your piano may get completely damaged or need heavy repair. So to save this enormous amount, hiring professional Perth Piano Removalists is best. Also, most piano movers have insurance coverage for piano damage which is again a peace of mind for the clients.
Hiring Experts Relieves Your Stress And Saves You Time
If you have a plan to move to a different house and you have a piano to relocate to, the thought itself can make you stressed. You may need help managing the time required to shift your piano to the desired destination. So what's the best option? When you have no idea about the right equipment and have no experience moving this instrument with intricate parts inside, get in touch with a reliable piano moving service in Perth. It relieves undue stress and helps you focus on the essential aspects of your relocation work.
Connect With A Piano Mover In Perth For Peace Of Mind
Booking the services of a trustworthy piano moving company like Forte Heavy Removals is an ideal investment. Expert piano movers carry out the entire piano moving process flawlessly. You will be surprised to see their unique and safest ways to pack all the delicate internal parts of your favourite instrument and hence will love their service. They know how to carry the bulky item through the narrow passages of your house or the staircases. They are well aware of the removable parts and secure them in the safest way. They load the piano in the truck and ensure it is safe even during the journey. The piano mover in Perth will remain till the end to ensure that your piano is playing fine and has been relocated without damage.
Want to experience a seamless piano moving service? Call us to talk to our customer-friendly professionals and learn more about our services.